Low Tox Hand Sanitise product
Hand sanitise products are used to stop germs from spreading with a quick squirt on the hand. Have you ever considered the chemicals which are in some of these products and the benefits of moving to a low tox hand sanitise version?
To help you navigate the world of chemicals in your regular hand sanitise product, I personally use a book called the Chemical Maze by Bill Statham.
The book helps you identify toxic chemicals and cosmetic ingredients to avoid. The Chemical Maze is also available in a clever app for your smartphone – that way you have the research in hand while out and about.
With the new information about chemicals and living a low-tox lifestyle, we can make more informed choices about what we purchase and when interacting with them in our environment.
I had the pleasure of working with Amelia from @Wonderbirthing a pregnancy / postpartum support business based on supporting YOU to have a Wonderful Birth and start your journey into motherhood.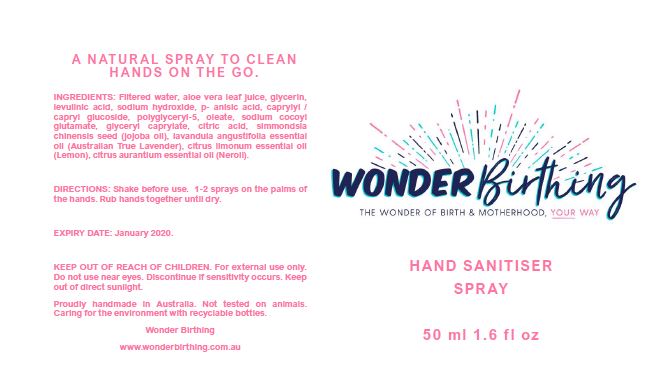 essential oil research:
We are passionate about promoting safe and evidence-based research when creating aromatherapy products. We designed the custom aromatherapy Wonder Birthing Hand Sanitise spray product which includes the following essential oils below with this in mind and suitable product every stages of pregnancy.
Adding Neroli essential oil in this product to help relax, calm and soothe the senses while the Australian True Lavender and Lemon are antibacterial and bactericide.
True Lavender - in the first hours of postpartum period resulted in better physical and mood status compared to nonaromatic group" (2017) Lavender essential oil increased quality of sleep and reduced level of anxiety in patients (2017) Lavender essential oil showed antibacterial activity, and therefore they can be used as a new antibacterial substance (2014).
Lemon essential oil - represent a cheap and effective antiseptic topical treatment option even for antibiotic-resistant strains as MRSA and antimycotic-resistant Candida species." (2009)
Neroli essential oil - may have potential as an effective intervention to reduce stress and improve the endocrine system." (2014)

Discover more about living a low-tox life with Sarah:
Aromatherapy with Sarah® was born out of a passion to promote the safe and ethical usage of essential oils offering aromatherapy massage, low tox aromatherapy facial massage, Reiki healing and private online consultations.
I am also a specialist in manufacturing custom aromatherapy products for other businesses. Let's just say that I'm your local and qualified aromatherapist in the Inner West of Sydney.
www.aromatherapywithsarah.com.au
Fully Insured and Certified. Accredited Member of SNTR (Society of Natural Therapists and Researchers Inc)